Ominom (Happy Birthday Flann O' Brien)
Happy 100th Birthday to Brian Ó Nualláin (aka Flann O' Brien, Myles na gCopaleen et al), wherever his Omnium may be.
I'm breaking my internet silence, to say that and say "look at this". Needless to say I'm a fan of the works of Flann and I got this idea in my head yesterday to take an image from my head and put it on the page. Here's what I had in mind…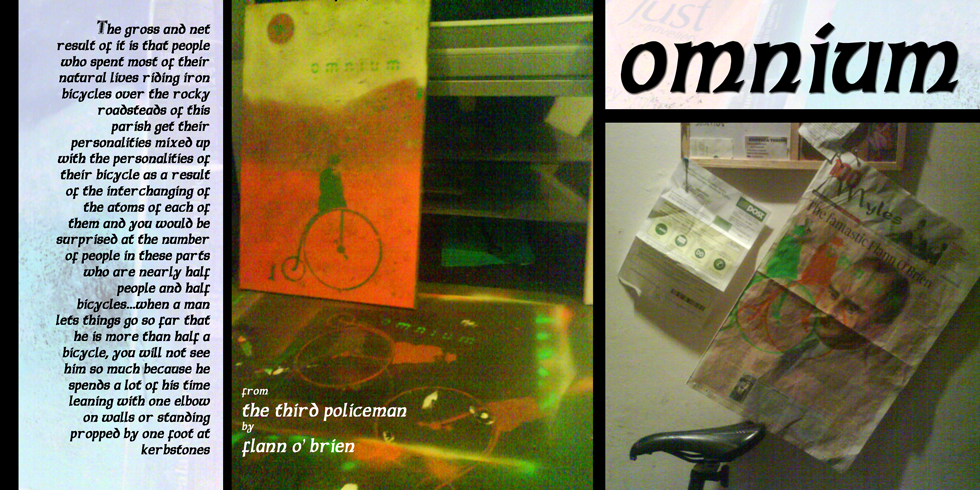 [sorry about the photo quality.. i am minus camera] 
I will add to it some more in variations, but I got it into my head to run into town today and print up some t-shirts of such to flog to other fans of Flann who might be milling about in various Dublin watering holes. The thing is, I'm a 'Poor Nerd' and haven't got the money to print said t-shirts in the first place. Beside, it was a map-cap plan which would involve me shouting and roaring on the streets "Get your Omnnium On… on ….t-shirts!", which isn't really me at all. But something may come of it yet…
The Irish Times ran a nice supplement on Saturday honour of the centenary (online here, or if you prefer the pulp of paper? here is a scan) and a column from Cruiskeen Lawn is being published every day for the month of October (this is a link for such). On the weekend beginning the 14th October is the Flann O'Brien Centenary Weekend, with events in and around Trinity College (for booking and the details, see flann100.wordpress.com). This follows on from an earlier academic celebration of Flann in July in Vienna, at the 100 Myles Conference. Also, this month sees the debut of Blue Raincoat Theatre's stage adaptation of The Poor Mouth in Sligo which I really hope to get to see.
Anyways, while I'm here….
I am 'supposed' to be (for a laugh, see today's C.L) launching this new blog type thing at mindagainstthemachine.me which will be about me and the challenges I've faced in my work and life over the past several years. I hope that be doing so it will enable me to chart the progression of myself getting things back on track. It will have a back story and a moving forward story and be a place where I can share some personal stuff which I feel does not have a place here on itison.net or itison.tv. These sites were never meant to be just about me and that's another story which I would like to share in the new space.
—-
I've put this design up on Zazzle, should you want some tat. (all of the products are not showing up in the store yet). I might improve upon the design and submit it to Threadless if people are into it.
But for now, maybe you'd like a t-shirt, or a mug perhaps? how about an iPhone case, or a badge?!
"Get Your Omnium On!"

Omnium 100
by
thedizzywizard
Browse
Flann o brien T-Shirts

Omnium 100
by
thedizzywizard
Browse other
Flann o brien Mugs

Omnium 100
by
thedizzywizard
See more
Flann o brien T-Shirts
See more here >> zazzle.com/thedizzywizard