Julian Opie walks O'Connell St.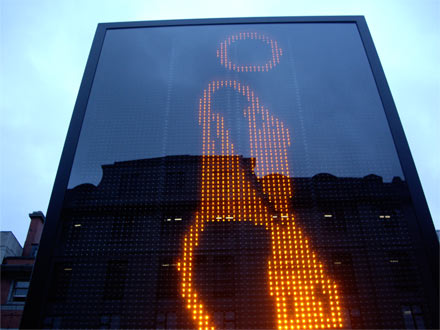 Some new magnificent sights on Dublin's main thoroughfare are the big walking LED people. This is the work of renowned artist Julian Opie. It's like the characters on the pedestrian crossings as animated giants, walking but going nowhere. A selection of installations line the central aisle of O'Connell Street and outside the Hugh Lane Gallery on Parnell Square. Their names are Sara, Julian, Jack and Suzanne. If you are living in Dublin you will become familiar with them over the next couple of month so say hello if you are passing them! If you are visiting Dublin this year you are sure to walk in to them. You know their names now!
Julian Opie: Walking Down O'Connell Street
20 January – 8 November 2008
LINKS
Opie's website is very clever.. based on Mac OS9
Happy 100th Birthday to The Hugh Lane Gallery
Here's a little video I made the other day and scored a suitable soundtrack for..