Djay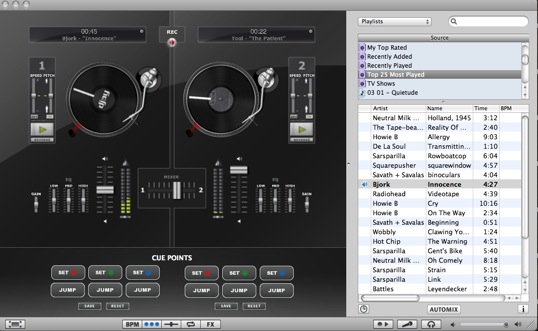 Djay is a very nice little application available on the Mac platform. It is packed with some very cool features well worth it's reasonable price. I first had this on my computer with version 1 and messed around with it a bit. It was free back then but it was also lacking and not everything worked. Now it is in version 2 and it is fully fledged. There are a few things I would like it to do which it doesn't do, such as not being able to capture it's audio output along with other applications in the system audio stream. However this is not a normal need and I was really looking to do this initially so I could enclose a screen capture movie to show you the application in action. But never mind because it allows you to record your mixes with the application itself and that is the main thing.
So lets have a look at what this does then. Djay is a set of virtual decks which allows you to load in your iTunes library. This is very handy as you can do all your sorting and getting playlists together in iTunes and open up Djay ready to rock, roll or rave! You have full control over the decks, you can scratch, change tempo, change pitch and sample your output. The scratching does sound a little to digital, but depending on the music you can get away with it. You can even add cue point on the record for even greater precision and this is a feature which is open to some experimentation with. BPM sync is available by tapping along and you can add reverb and echo effects. There is even a mic tool making this a very comprehensive package.
The real control comes with keyboard shortcuts (of course this is true of any good software) and these allow full control of the application.
What I reeally liked about this when I tried out the previous version was that you could use the Griffen iMic to monitor the audio. This was very handy as I have had one of these since 2003 and haven't had much use for it in other audio software as they usually demand a different (more expensive) type of audio interface. So I was happy to find support and use for this piece of kit on the shelf! However it did not work for me in version 1 🙁 – So when this new version came out and it worked a treat, after already trying some of the other features I happily took out the plastic and made my purchase!
So the first recording I made with this was on Saturday morning. I was a mess (see below post!) so the mix I made was a mess. I never bothered with headphones to pre-cue anything I just picked a selection of tracks that I was a liking! So to continue with the imperfect unfinished work theme going on here I present a mix I did with Djay. It's 30 minutes long and has some cringe-worthy mixing, but I don't care the tunes are all good! Besides this is just a test. Also included is a 7 minute feedback experimental piece made with this app and the mic. It is just me clapping, whistling, vocalising etc. Sounds good though…. Ah, technology.. don't you just love it?!
◆ Tool – "Eon Blue Apocalypse"
◆ Hot Chip – "The Warning"
◆ Battles – "Leyendecker"
◆ Marshall McLuhan – Excerpt from "McLuhan's Wake"
◆ Mouse On Mars – "Bib"
◆ Sarsparilla – "Rowboatcop"
◆ Marshall McLuhan – Excerpt from "McLuhan's Wake"
◆ MC Paul Barman – "MTV Get off the Air" (with Princess Superstar)
◆ The Tape-beatles – "Reality Of Matter"
◆ Matthew Devereux – "Brand New Bicycle"
◆ Alan Watts – "The totality of all being"
◆ Battles – "Atlas"
◆ Dan Deacon – "Arms Saloon"
◆ Messer Chups – "Import-Export (remix by People Like Us)
◆ Oleg Kostrov – "Faust – the letter T"
◆ Lee Rosevere – "Nevermind On 45" Also
LINKS
See what the keyboard shorts cuts are (gives you an idea of the control)
Algorriddim makes Djay, see their site for more info on this software.