Nine Inch Nails – Ghosts I-IV
The new NIN album is out now. Well that was dropped without much fanfare, but it had been expected to soon follow Trent's outing with Saul Williams. It is a four part album and available at different 'fair enough' price plans and you can get part one for free. It was released yesterday and gave the servers a bit of a battering so the site is temporarily down while they work a fix. However, in a first for sure, you are directed over to The Pirate Bay to download a torrent of the free songs!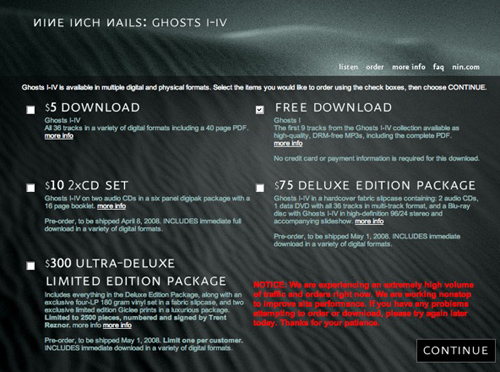 Now this is live blogging for sure as I was typing this and uploaded the grabs above, I checked the site again and it's back online. So I'm downloading it now, no need to visit The Pirate Bay today, I'll be back there soon enough though to see what's in the galley..arrraghhhhh!

With a few minutes to go, as I'm on a slow connection at the moment, I will brew myself a coffee and standby for the first tune before I finish this post! Damn this connection is slow. I should be updating the time I guess, so it's now 07.29am (started 5 mins ago) and 67 of 82MB and it's still saying 5 mins to go! (Avg = 50KB/sec)… yes I'm being nocturnal! No way i'd be up this early, I'm up this late!
07.34am ….bingo, it's here!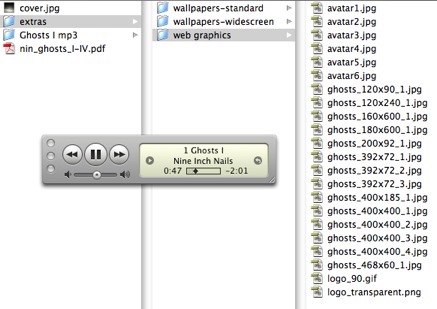 Wow, lot's of cool extra here too. The first tune is a nice haunting piano intro, as it should be given the title of the album. It's on to track two now and I'm liking the sound of this. The pace ups at track three and given the electronic atmospherics of this so far I gonna be back for the full album, for sure.
Thanks Trent!
🙂