The Last Supper in high def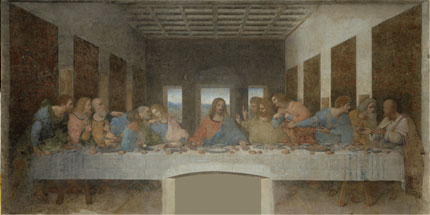 A new high resolution image of Leonardo Da Vinci's masterpiece "The Last Supper" has been posted online on a new site which specialises in macro images of artworks for closer inspection. The resolution is 16 billion pixels and that equals about 1,600 times your average 10 megapixel digital camera image.
This impressive study was done by none other than HAL9000! Well no, not that one, but rather an Italy-based firm specializing in the digital restoration and preservation of works of art through high-resolution art photography. The image size is 16.118.035.591 pixels, (172181 pixels wide and 93611 pixels high) and takes up a whopping 96 Gigabytes on disk. The panoramic photography technique used allows the stitching into one image of different photos shot using rigorous criteria.
Go have a look for yourself. It looks like more will artworks are to be added. Just click on the image of the work of art and you go to a page where you can explore it's detail. There's lots of great info about the technique used on the site also. See it here.