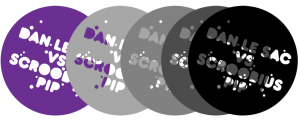 It was the beginning of 2009 and I was newly tuned in to Dan le Sac vs Scroobius Pip. The sounds and words of the Angles album were swimming around in m head, usually plumbed in via earphones on a portable device.  I have my phases that I drop into and out of whether I am in the loop or not with musical happenings, these guys were late on my radar, my radar wasn't receiving. but when I found their frequency I was very happy indeed. This "intelligent hip-hop" is the sound of angst, comedy angst mind you, fused with electro synths and hard beats. It's poetry in dance motion, it's Scroobius Pip's poety in Dan le Sac's musical potion. It's really good is what I'm saying!
In February 2009 they had a few shows's in Ireland and i was really looking forward to hearing them live. But alas it was not to be so because of a sold out show. No blagging worked for me either. http://www.itison.net/blog/archives/258
Roll on last week and i get a message from Eimear, a friend of mine who says she has a ticket for me for Dan le Sac vs Scroobius Pip in Whelan's on Saturday night. I had no idea they were even playing and even less of a no idea that they had a new album out for over a month. Well I was somewhat distracted with my projects and being skint meant I was blocking out news of gigs because I couldn't afford to go anyway. So I am very grateful to friends for pulling my back into the music loop. I needed a fix.
Saturday 24th April and I finally get to see a live performance by Dan le Sac vs Scroobius Pip and my expectations were met and surpassed. B. Dolan was the support act, an American man of great hip-hop looking for his Irish roots! He rapped some quality "negative hip-hop" as he called it before the main act would come out and "shoot rainbows of love into our hearts".  And they did just that.
Kicking off with "The Beat That My Heart Skipped", their debut single from 2007 and definitely one of my favourite musical offerings from any act over the past few years, the duo known as Dan le Sac vs Scroobius Pip, dug into their repertoire and brought the crowd along their wavelength. It was my first time to here some of the new tracks such as "Stake A Claim" and "Get Better" and I approved with head nodding, foot tapping and beard stroking.
Everything was fantastic, the buzz of hearing some of these great works live and the energy created by the two's bantering on stage a squaring one side of the room against the other. Top notch. The new album is in my shopping basket, just haven't got to the till yet.
buy The Logic Of Chance from iTunes
I captured some moments here was one:
"Stake A Claim"


and here is a great fan video of the same "Stake A Claim" made with photographs by Tom Ashmore of the G20 protest in London last year.
Play with the two together for a remix of sorts (volume)
🙂