20th Century of Music sold to Irish buyer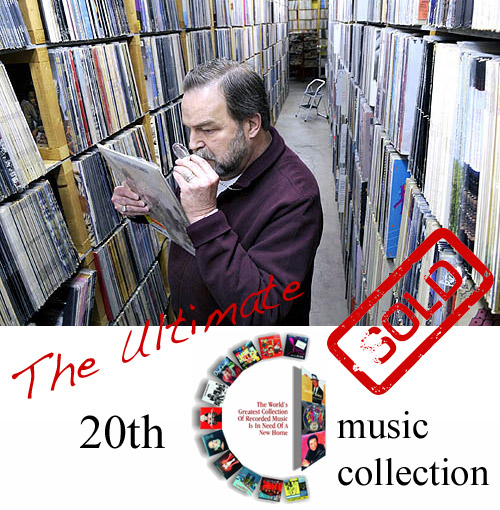 (UPDATED: the bid was a fraud – see below)
Wow, I gasped a big musical note when I saw this via State via Cahony!
American music lover Paul Mawhinney in his 68th year has decided to sell his immense music collection, which is no less, a history of music in the 20th Century. The collection was sold on ebay, in one of the highest priced auctions ever for $3,002,150.00 (yes that's over three million dollars) to a lucky bidder from our own little emerald isle. The collection is worth over $50 million and Mr. Mawhinney wanted it to be preserved and rightly so. The price fetched was really an absolute bargain as he had been offered almost ten times that nine years ago. He is selling it now due to his concerns for his health and wanted to be sure it was looked after when he could no more.

From Thomas Edison to American Idol, this is the complete history of the music that shaped and defined five generations. 3 million records and 300,000 CDs containing more than 6 million song titles. It's the undisputed largest collection of recorded music in the world. About half of the recordings are new and never played, and every genre of 20th century music is represented. There are countless rare recordings worth hundreds, or even thousands of dollars each on the collectibles market. Organized and cataloged, the collection is meticulously maintained and housed in a climate-controlled warehouse. The estimated value of this amazing collection is more than $50 million.
but wait, that's not all, there's more…
The new owner of this magnificent collection will also acquire (1) the rights to Spin-Clean, the owner's patented vinyl record cleaning system, considered the best on the market by audiophiles the world over, (2) the rights to Discmist CD cleaner, (3) CD Saver 2-part archival CD storage sleeves, (4)Yellow Jacket 45 RPM acid-free archival storage sleeves, (5) ownership of the owner's six publishing companies and eight independent record labels, and (7) more than $100,000 worth of antique recording and listening devices and other music memorabilia currently on loan to a museum.
According to his website, "advancing age, declining health and associated financial concerns, are forcing the owner of the collection to part with the result of his lifelong passion. It's not a decision made lightly or without considerable soul searching"
The purchaser of this amazing lot goes by the ebay handle 'jopsoup'. Let's hope that the greatest music museum in the world is opened in Ireland sometime soon. It's going to be a big transport job and I for one would like to go diggin' in those crates! But a walk around would suffice. 🙂
MORE ON THIS
The ebay auction page
Paul Mawhinney's website
Wired Article
UPDATE: 23 February 2008 18:05
The bid turn out to be a fraud….. via Post Gazette here
The Irish man with that screen name says he didn't even know about the bid until after the fact.

"Jopsoup" told the eBay executive that he was a victim of identity theft.

"He claims he went to an Internet cafe and got the e-mail with the invoice from us and wondered 'what the hell is this?' " Mr. Henderson said.

Mr. Henderson says he and owner Paul Mawhinney plan to re-list the collection and run the auction in a more "semi-private" fashion with screened bidders.