Since the beginning of the year I have been part of an online seminar 'Remix Theory and Praxis' established by Owen Gallagher of Total Recut discussing the merits of 'Remix Culture'. Through meetings over Skype and email, Mette Birk, Eli Horwatt, Martin Leduc, Eduardo Navas, Tara Zepell, Owen & myself discussed relevant academic texts and ideas which relate to the subject as well as sharing examples demonstrating the rise of remix as the tools of production became affordable to the wider public outside of the media industry. This has led to an explosion of creativity which has filtered back into the media itself with the discovery of new techniques of storytelling brought about by wider experimentation.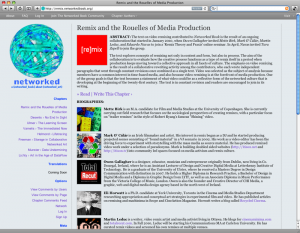 [image above links to the work]
One of the things we set out to do as a group was to create a remixed text whereby we all wrote a bit about our ideas of remix culture and put it up and mixed it together in a wiki to form part of the Networked Book project (a networked book about networked art). It not exactly a Brion Gysin / William S. Burroughs cut-up approach, but it is interesting to see a multi-authored piece of text come together cohesively. The result is a piece which which is challenging to our perception of creative culture and highlights the problems with copyright in a world so consumed by mass media. It is only natural for people to use these media sources as reference points in studies of modern culture or as a language in itself to tell new and unique stories. This text analysing these perspectives is now available on the site and is organic in form in that it can be further remixed and expanded upon within the text itself and discussed in comments alongside.