Last week I took a trip out west to film a gig for Laoise Kelly for the launch of her new album Ceis in her home town of Westport.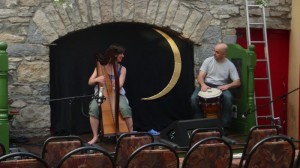 My girlfriend, Anne-Marie and myself hopped on the train on Wednesday afternoon and took a well needed excursion out of Dublin over to the beautiful coastal town of Westport in Co. Mayo. The gig was on in Matt Molloy's (of The Chieftains fame) and it packed in a full house of eager ears to listen to Laoise's wonderfully captivating playing of the Harp. She played a magical set of tunes, showcasing some from her new album and was joined on stage for a few by Matt Molloy himself on the Flute and later by her brother Mick on the Djembe.
The next day we were treated by our hostess to some of the awe inspiring scenery the west has to offer, firstly on a lovely boat trip out in Clew Bay with her uncle David (and I even got behind the helm for a while!), then on to Croagh Patrick.. no, no not to the top, just far enough to say hello to the statue of St. Pat! (Will have to make that climb sometime). We then drove south through Doo Lough Valley passing the Twelve Bens and witnessing some amazing harsh landscape and ominous clouds hanging low into the valley. Onwards towards Leenane on Killary Harbour, location of the pub from The Field and then back to Westport for a few scoops.
Time flew quick and we were up early from our our lodgings (the very nice Boulevard Guesthouse on the South Mall) to catch the 7am train back to Dublin.
It was a wonderful experience all round.. a big hello and thanks to everyone we met and special thanks to Laoise for being our host.
The recording of the gig went very well (thanks to Martin for getting the audio down) and you will see some of it soon on Laoise's brand new, just launched website (which I built for her, by the way!). Check it out and find out where you can get the opportunity to have the pleasure of hearing her play live and where you can get a copy of the new album.
🙂