Picnic '07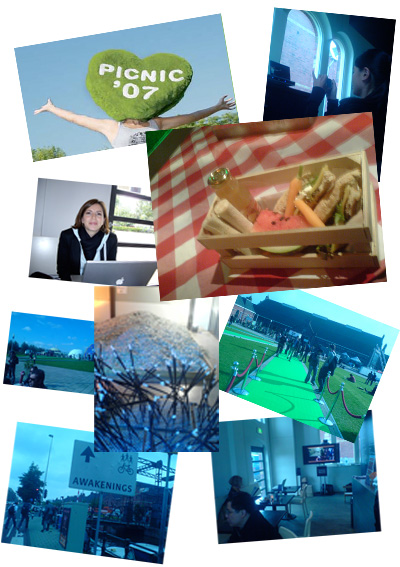 Picnic Network is a creative media festival which takes place in Amsterdam. I was fortunate to be an invited guest of DivX / Stage6 at the festival last week. On Wednesday I was on a panel entitled "Digital Video – The New Creative Process" as part of a day long session regarding "Transforming Media". I got to meet lots of very interesting people with like minds starting with the good folks from DivX / Stage 6 ; Genevieve, Ben, Jim, Melissa, James and Jordan. The panel discussions were very stimulating as it represented a good cross section of people with new ideas for the creation and distribution of quality digital media. The following people participated alongside myself:
> M dot Strange – We Are The Strange – fantastic animator of a strange and extraordinary piece of work.
> Gabriel McIntyre – Xolo.tv – founding member of a forward thinking organisation of vloggers and a whole lot more.
> Jamie King – Steal This Film – director of the film about piracy online featuring The Pirate Bay as a case study.
> Henrik Moltke – Good Copy / Bad Copy – director of this excellent film, see my review of this from a while back
> Wendy Bernfeld – Rights Stuff – founder of advisory group for media companies
> Steven Lee – Star Wreck Studios – CEO of groundbreaking Finnish film company which explores space and beyond on a shoestring.
> Ton Roosendaal – Blender – Founder of groundbreaking animation solution, Blender.
And this was just the first day! – a great way to kick off an exciting week of new discoveries.
Picnic baskets of healthy food for lunch were very well received as was the free coffee. The decor throughout the festival was amazing as was the venue, the Westergasfabriek. Overall the Picnic was a great experience. Other highlights for me included Fab Labs demonstration of the technology that makes personal fabrication possible, Alex Steffen of Worldchanging's presentation "A User's Guide to the 21st Century" was an intelligent and witty look at the world we live in and what the future holds and The Green Challenge Award ceremony.
The Green Challenge is a very interesting and worthy idea. The theme of sustainability ran throughout the festival. On Saturday the prize of €500,000 was awarded by Sir Richard Branson to the winner Igor Kluin for his solution 'Qurrent' for energy management in the home.
There was so much I didn't see but I have lots yet to follow up on. So think of this as an incomplete blog post as such, I will expand upon this in later posts. In the meantime explore all the links above which will take you to wonderful places.
On a side note: I have a good amount of video footage from the festival which I hope to get up online at some stage. However my drives are currently full with the Tara documentary rushes. A new drive is on order!
I left my digital stills camera in the office before flying out. This meant less photos than normal as I only had my phone camera. But I will finish up this post by saying a big huge thanks to the DivX / Stage6 crew for inviting me and also for the sweet gift of a camera on my final day. Thank you all.