Total Recut – Remixed Media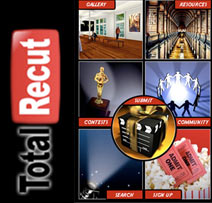 Here one that I saved for later a few months back and only got back around to it recently. Total Recut is a website set up by a fellow Irishman to bring about a community of video remixers, mashup artists and the like. It is a great project with a lot of potential. There are a fantastic selection of recuts accessible from the site so far and a few I have not seen before. Also on the site are links to source material, applications and other info about the scene. I hope the site grows to be a great community of like minded folks who wish to engage people with their new creations with old media. Mashups are fast becoming the biggest buzz on the web and there is so much more material to explore. This movement of creative types are my type of people. This movement is about challenging the status quo when it comes to artforms, copyright, politics and much more. Nothing has changed much here apart from the medium. All artwork, be it musical or visual, has begged, borrowed and stole from what went before. Now is no different except the tools are more accessible and technology has allowed for new advancements in creativity. This should not be restricted. There is a lot to say about this topic as it is one I am involved with and have studied in-depth, it would be a big post though and perhaps it's best I leave it for another time in a more structured essay!
For now I urge you to go have a look at Total Recut and if it is your bag, sign up and participate.
To wet your appetite here's one I put up there earlier : (WARNING: Not for kids)
Sesame Street's "Casino" – starring Robert De Niro & Joe Pesci as Bert & Ernie.